Description
FASCIQ® Mini Massage Gun PRO
The FASCIQ® mini massage gun  offers great power at half the size!
This amazing device is so small it will fit in your gym and or work bag perfectly. Take it with you everywhere you go! Same percussion strength at half the size compared to large alternatives. With the Ultra-quiet technology, you can enjoy the massage gun at work, in the gym and even in front of the TV.
---
★★★★★
"Remarkable service when ordering massage gun. The gun is of very high quality and extremely powerful. Prompt delivery."
John Lyons
---
What is a massage gun and what does it do?
A massage gun kind of looks like a power drill combined with a recovery ball. It is an awesome-looking device that can help in your muscle recovery. The massage gun provides rapid bursts of pressure into the body's muscle tissue, this is also known as percussive therapy.
Why buy the handheld massage gun?
Tired of muscle pains? No more, the FASCIQ® massage gun mini is a must-have. Easy to use, instant muscle relief, anywhere, anytime.
The ergonomic design makes it so that the massager is easily handheld for treating all body parts. Powerful percussions, extreme light built & outstanding battery life is what sets this massage gun ahead of its alternatives!
Workout with confidence
Fast muscle recovery without breaking the bank
At-home massage therapy
Get rid of tightness & increase flexibility
Deep tissue- and fascia release
Technical Specifications
Perfectly consistent percussions
High-power brushless motor (92 Watts)
A stroke depth of up to 0.35"
A completely adjustable intensity from 1700–3200rpm
Quiet technology at only 45db
Endurance battery that lasts up to 12hrs (Li-Ion 2600)
Speed battery charging (3 hrs until full)
Extremely Lightweight – Only 1.1lbs
Mini-sized making it an ideal companion wherever you go – 5.5" height
Comfortable to hold
Strong force output of up to 30lbs (stall force)
Lightweight & compact. This portable fascia gun is as small as a phone but carries the percussion strength of larger massage guns. It comes in a very convenient storage bag making it easy to carry around. The ultimate handheld massage device. Restore & relax those muscles everywhere you go!
---
★★★★★
"FASCIQ® Mini Massage Gun PRO"
If you are searching for only one product you should get this. This device is of very good quality and went beyond our expectations. I have some injuries after serving in the Army and periodic exacerbation of back, shoulder, or hip pain. I usually go to the Osteopath, but this tool has been a game-changer for me and now I rarely get any anti-inflammatory for pain and my exacerbations are much reduced. With the 4 different attachments that come with it, we can do several modalities of massage and I can reach deep, and superficial muscles. I can also relax by doing it with soft intensity. and this is helping me to recover after gym exercises. I strongly recommend this product not only for individuals but also for Osteopathic or Massotherapeutist specialists.
My wife has been using it after her workout too and has said that her recovery and relaxation are awesome."
Customer who prefers to remain anonymous,
---
How to use the muscle massage gun mini?
There are a few things you should pay attention to when using this device. The first one is to focus on the muscles, you should avoid large vascular structures and bones. The second thing is that the lowest speed setting is already strong enough for most people. You can go up one level if you don't feel enough, but you might consider spending more time on that area instead of upping the intensity. Especially when you have sore muscles it is best to use the lowest speed setting. The use of the massage gun depends on the goal you have. When you use this device as a warming up it is best to gently press it into the area for three to five seconds. If you use the massage gun after a workout it is best to spend five to 10 minutes of doing a sweep on your whole body. Also, do not forget to breathe while using the massage gun.
The massage gun can be used before or after a workout. It can be used before a workout to improve your range of motion by loosening the fascia. If you apply the machine to the area you want to stretch, it could increase the range of motion 50-80% in only 30 seconds. The massage gun can also be used after a workout to help the muscles recover. These guns are also ideal for people training for an event because the gun can relieve tightness and may prevent injuries.[/vc_column_text]
FASCIQ® Massage Gun Mini product video
Attachments
The device comes with different heads or attachments. You can use these to target different muscle groups for a highly precise treatment.
Each massage head or head attachment is carefully designed by FASCIQ® to ensure you get the much-needed massage therapy before or after an intense workout. There are 4 head mounts included with the massage gun.
Head mounts: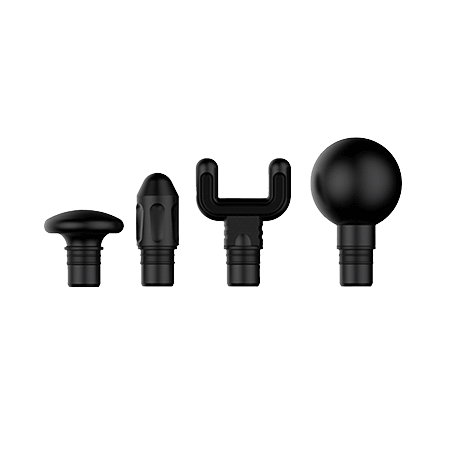 1. – Spine head mount. Perfect for gently massaging the neck and spine.
2. – Flat head mount. Full body application – Apply everywhere for a revitalizing feel.
3. – Ball head mount. Made for relieving larger muscle groups – A more intense treatment.
4. – Bullet head mount. Perfect for deep muscle penetration when pain relief is crucial.
Head into your next workout feeling great!
What are the benefits of a fascia gun?
One of the benefits of a massage gun compared to a standard foam roller is that it can get deeper and more localized into tissue. Also, for those who find foam rollers uncomfortable, the massage gun is an easy solution for this problem. Another way to give a massage is simply to use your hands, but a massage gun is way faster thanks to the motorized head.
The massage therapy gun delivers deep pulses (or percussions) in the muscle tissues. These repeated pulses generate an increased blood flow, accelerating the growth & repair of the tissues. These result in a relief of pain and an increasing range of motion. The deep muscle percussions provided by massage gun therapy can deliver all the following benefits:
Ease soft tissue pain
Release lactic acid
Accelerate muscle recovery
Stimulate muscle growth
Improve blood circulation
Enhance range of motion
Muscle stretch
Improve muscle responsiveness
Reduce the risk of injury
Where to buy a massage gun in the US?
THYSOL USA offers the best quality massage guns. All our fascia guns have Free US-wide shipping and are shipped the same day. We offer a 30-day money-back guarantee so your purchases are always risk-free. Customers have rated us a 4.8 out of 5 stars. Buy your new massage gun today!

[/vc_column][/vc_row]