Description
Our customers buy the FASCIQ® Artist – IASTM Tool to assess tissue quality and to treat focus areas. Save your joints and wrists during soft tissue therapy. All IASTM tools carry Lifetime Guarantee and are shipped US-wide for FREE.
FASCIQ® IASTM Tool – Artist information
Material: AISI 304 (1.4301) high-quality surgical stainless steel
Weight: 0.53 lbs
Dimensions: 0.15" x 4.3" x 5.5"
IASTM Tools stimulate:
A flexible and well-maintained, healthy fascial network.
Improved tissue perfusion.
Improved range of motion.
Mobilization of the soft tissue.
Loosening of adhesions in the connective tissue.
Treatment of trigger points.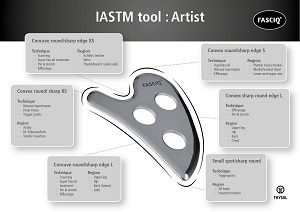 IASTM Tools product video
The most common conditions FASCIQ® IASTM Tools are used for:
Plantar fasciitis
Patella tendonitis
Achilles tendonitis
Carpal tunnel syndrome
Shin splints
Adhesive capsulitis
Tennis/golfer's elbow
Iliotibial band friction syndrome
Surgical or traumatic scars
In recent years it has been discovered that the basic functions of joints, muscles, organs and tendons require a normal functioning fascial system. Normal muscle function needs well-hydrated surrounding fascia to allow normal tissue gliding. Between 30 and 40 percent of the force generated by a muscle comes from the surrounding fascia. These facts make it clear that the fascia requires special attention.

★★★★★
"Excellent product by FASCIQ. FASCIQ IASTM tools are a welcomed addition!"
– Luke Rudkin
Sports Physiotherapist at Premiership side Gloucester Rugby